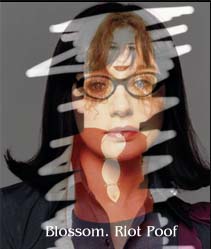 NEW AGE *accompanies New Age*
Slipping into the
velvety folds of
a mini, garnished
with lace
A four star dish,
says the reflection in the mirror
The phone rings, and she startles,
her smooth pale hand grazing
her naked shoulder,
smearing crimson,
like the remains of a vampire's
gentle kiss;
and she answers
and nods
and slips into her shoes
The road winds with clockwork precision,
curves perfectly spaced and proportioned
so as not to allow one to doze
at the wheel;
the bridge, crossing watery wisps
that geographers jokingly call a creek and brook
And she hums an old Patsy Cline tune
as she slips around the bends,
like the daring hand of
a thirteen year old boy seeking
the promised land he drools at
in Playboy
Her movements smooth, yet tinged
with the green of naivete
She is participant and observer
actor and director,
and she is determined to get her lines right
(Funny how naturally they come so soon after reading the script in that magazine,
the one for alternative lifestyles. What a term
to call something so eloquent and raw, she thinks as she steps inside the bar)
Her chardonnay rolling about her tongue, she heads for the jukebox;
The Chairman of the Board is singing to her soul:
"I did it my way"
Her lips surround his voice silently,
in a gesture of solidarity
and unspoken secrets and knowledge
And she slips deeper into the crowds, the
mushroom clouds of nicotine and Mary Jane,
and she finds her subjects, eager volunteers
in a game where she will always hunt
and never be pursued again
The blonde eyes her breasts, and she eyes hers in return
as the young gentlemen brushes her cheek in a kiss
She nods, her eyes fluttering slowly in a blink-open-blink
as smoothly as her velvet dress hugs her hips.
The room is upstairs.
And they will go there now, woman on top
of this pyramid of eroticism
Monogamy no longer means
what it once did; and this is what intrigues her
What catches her eye
And with this night, begins her
exploration of her deepest, core self
The beginning of a
new Age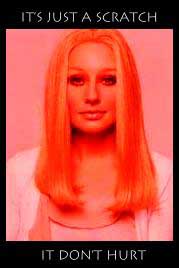 THE BEACH*accompanies 97 Bonnie and Clyde*
The water is cold, murky,
churning like her stomach
as she clings to a whisper, a
muffled voice through
a metal coffin
One last kiss
One more goodbye
And her head screams
because her throat no longer can;
it bears witness to the mistakes of her youth
'He'll only break your heart'. they told her
'He isn't worth it'
But she believed he was, believed she could change him
But she couldn't.
She never could.
And now, never would, unless
Unless....
A sharp slam to the back of her head
when a tire iron connects as
pothole meets car
And a small, quiet question reaches her ears:
"Why is Mommy in the trunk?"
And a single tear rolls down her cheek, her body sparing no fluid
as the gaping hole weeps on her chest
Claustrophobia sets in; and suddenly
Death seems easier
But no one ever said
motherhood was easy, and so she slowly gasps,
her eyes clouded, a finger of fog wrapping about her mind
and she waits and waits
for her last trip to the beach,
for her last kiss goodbye
from the only one
who has ever truly loved her,
the one who always will love her
And it is that love, she knows,
that will kill the little girl
when she realizes that
Mommy can never return from the bed
she helped her dad roll her into
Like a castle made of sand,
her daughter's world has been flooded
with salty cold water,
destroyed by a wave of goodbye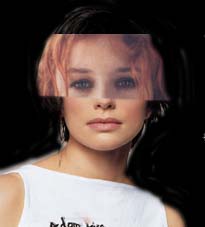 UNRUHE*accompanies Strange Little Girl*
Even nature is violent
In this small, run-down town
And the birds do not sing,
They scream,
As I scream,
Bolting upright from
the dream.
It's always the same, my dream;
I am walking alone
On a cobblestone road
That never ends,
And my shoes are dirty,
Caked with mud,
That flakes off, but never completely disappears
I reach a riverbed,
And splash the coolness on my face,
But my fever remains
And I rinse my shoes
But now they bleed more mud,
Always dirty
Dirty like me
Jimmy, the elephant trainer
Says I am forever
Lady Macbeth;
Crying out at spots on my soul
As if soap can ever erase
My sins, my blame
Sometimes, I wish I could run away from my soul.
My macabre
Reverie is broken by
The happy crowds drifting by,
As Jimmy arrives
He takes my hand, pressing
A tissue into it
With a whispering touch
To my forsaken flesh
'You really should be going', he says
I just wish I knew where to.
IN MY ARMS*accompanies Enjoy the Silence*
I can hear the voices now,
Ringing in my ears,
A cacophony of hateful noise.
Even in solitary confinement of my own design,
I am never alone
I'm not sure what's worse:
Loneliness or longing for it
I trace the lines, blue/black on pale brown,
Tanned from the sun now,
Not my father's backhand
And I remember lines –
Lines raised upon my flesh
From belt buckles;
Lines in schoolbooks I would stare at
And never use;
Lines in my mother's face, worn from
Years of a licensed civil war;
Lines on the highway I traced with
A swollen, calloused finger
Through the bus window
As I escaped to Vegas.
I hear his yells, lightning raping a perfect
Starry sky
And her cries,
And I pound my ears
But they do not submit
And it is then I draw back,
And the lines, the lines
They appear
Warn and red, slippery smooth
The silence is here and I know
All I ever wanted, or needed,
Is here, within my arms.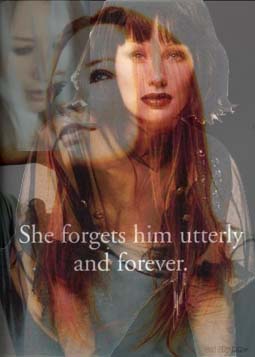 SONNET IN THE KEY OF LEATHER*accompanies I'm Not in Love*
'Why should I love?'
she asked me;
and for that, I had no reply.
I was prepared for the other
Brush-offs:
'too old', 'too young'
'too cute', 'too ugly'
'I'm a dyke'; 'You make me want to be one'
[the last is my personal favourite, for originality]
But she simply said,
'I'm not in love; I never will be
So shut up sweetheart
And enjoy the ride'
And I did,
With the feverish devotion
Of a cult member,
Start-struck with his new Messiah in blue jeans
Only my goddess wore leather,
Vinyl,
And a dash of metal, cuffed 'round
Slim, pale wrists and
Rich warm neck flesh
The more I needed her
The more she ran
Hair flicker-flashing through club lights,
Chains dangling from her hips
She wielded her flesh and lips
With the precision of the executioner
And I fell,
One more casualty
The only reminder of my love
A picture, hiding a blood stain on her wall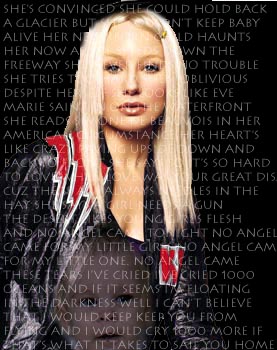 E PUR SI MUOVE*accompanies Rattlesnakes*
I drift along these worn and weary streets,
a tumbleweed among roses
The people eye me, piercing my flesh
With cold and malice,
But I will not scream.
No one will ever make me scream again
If rivers could rinse away our lives' pains
I'd surely need an ocean
To bathe in, breathe in;
Perhaps I'd dare to join the fish
And live forever in blue-black
Bejeweled with mossy green
Then again, would the fish
Resent my polluting their peace
With impurity?
Such are one's thoughts, when
The wind snaps at your face,
Berating you for the foolish games
You've played;
And I am champion, an expert now
If I had the courage,
If I'd had love,
If I'd had….
But I never did.
And so here, along the shore of the
Mississippi, crisp and blue-grey,
I trace the lines, trace them as if
Relearning true pain
Easy as 1-2-3;
The time I 'fell over drunk'
And hit the table;
With the deathly chill of the rain,
My knee aches still at night,
Remembering his hammers,
Remembering being forced to scrub
My blood, iron-rust, from
Calculating steel.
The line across my wrist,
From Thanksgiving;
When I realized the only thing I
Could be thankful for
Was death
Funny, the times your courage
Sells out
Through the leaves, I hear her cry,
A gorgeous siren who never saw day;
Only a blood-red sky
As he kicked her, as if
Destroying her would appease the
Monster inside him
It was she who demanded I pull the trigger of the shotgun a week later.
We watched him fall, with a look of
Boyish surprise;
A silent confusion crossed his eyes as
Buckshot met empty chest cavity;
He'd made me scream for the last time that night,
When he paid for
My siren's demise
I wish I'd had the strength
To turn the gun to me;
But instead, I wander
Daring the wind and hail to catch me,
Daring them to do me a favour
In the meantime, she stirs,
A phantom within
'E Pur Si Muove', Galileo; but
this time, I'm ready for my trial
by fire
Our shotgun by our side
As we leave the water, passing a seldom
Heeded warning tacked to a weeping willow:
'Beware of Rattlesnakes'
DARK ANGEL*accompanies Time*
She stands guard,
As they fall, one by one,
Stars from the sky
Giving in to the peace that comes
With no longer holding yourself aloft
She knows the warmth
Beneath the coldest ice,
Knows that love is the real paradise
A strand of hair crosses her cheek,
A silent gesture of prayer as
It blows, right to left
Swept up, only to descend
Amen.
The TV glows in the corner,
As she guards the door
There are times she wants to leave her post
But only she could hold the torch;
Only she could understand
The beauty of life,
And understand that it is not infinite
Even stars burn out, and fade away
And when they do,
She is there,
To cradle, to soothe,
To press the coins across the eyes
The radio filled with Ed K.
"I feel it coming back again"
as she rewards one more
for having the courage to live
and
die.
BLIND*accompanies Heart of Gold*
She has schoolgirls' eyes,
The kind that dart here and there,
The velocity daring life to keep in step.
She smiles as she speaks,
Calling me from a bus station
'I've been to Hollywood
I've been to Redwood;
But I'm still searching'
I remember her, my drama queen;
Raven hair, pale skin,
And pure energy
Threatening to burst from her heart
And take to the sky
She was always searching
For love
For pot
For something to satisfy the yearning
I love her so.
The latest flame, with no name
Courted her with princely passion
Then promptly deposited her in the alley like
An unwanted pet;
He'd proclaimed himself Romeo,
And became Iago
And she'd run to San Diego
When the bullets hit the car last week
'I've been to Boston,
to Kentucky too', she said, sounding old
'But I'm still searching for
a heart of gold'
She sails the skies
With a beguiling guise
But never sees
All she's ever wanted
Is here, in me.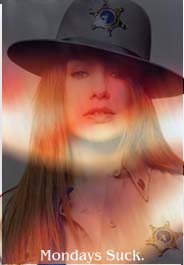 MONDAY'S CHILD*accompanies I Don't Like Mondays*
Monday's child was fair of face,
Locked with a classmate in a final embrace;
She never spoke wrongly, but never spoke up
So Susie emptied her life's cup
Tuesday's child was full of grace,
Prom queen, drama queen, beauty queen
She had it all, and never shared;
Susie's stray bullet caught her in her designer denim flares
Wednesday's child was full of woe,
Sylvia Plath, Marilyn Manson, and never was Marilyn Monroe
But Susie was mad; she'd forgotten the ammo
So Wednesday's child had to go
Thursday's child had far to go;
Top scholar, top athlete
Reached for the stars, but he still fell hard
When Susie found him in the schoolyard
Friday's child was loving and giving,
A sweet young girl who never did wrong;
She was going to be valedictorian
Until Susie spilled her blood on the lawn
Saturday's child worked hard for a living,
Growing up in the ghetto, he never wanted pity
Killing him was an accident;
Susie had been aiming for the class president
Sunday's child used to be good and bonny,
Good as gold, said her daddy and mommy
But something snapped, the innocence died
And now Susie waits, quietly, and
As heaven is wide
So is her hate
One more statistic in the United States.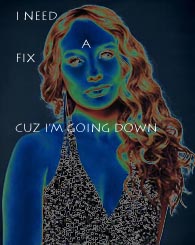 EXITS*accompanies Happiness is a Warm Gun*
A scream in the streets below
As she watches the windows
Unsure what she's expecting, but she
Knows it isn't good
His kiss stains her cheek
With guilt
As the radio plays the news
Her dresses are in disarray;
She's begun packing but she
Doesn't know where to go
Alone, scared, but prepared
She slips the needle inside
Happiness, at last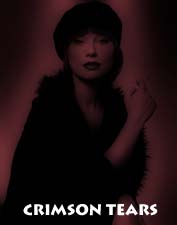 CIRCLES*accompanies Raining Blood*
The trees whisper knowingly
As she slips through darkened leaves and muddy paths
To her sanctuary
Her home
Where mother Gaia calls;
It is here, she will avenge and repay
For karma is a bitch, she says,
'just like I am'
Athame kisses sky and earth
Wind kisses face and hands
And she cries out to the One
For mercy, and vengeance
The animals of the forest cower away
As the sky begins to mourn and rage
Earth, wind, air, fire
Passion and desire
Raining passion from the heavens to soothe her soul
Raining blood, as her sister's had poured from the holes
Raining reprisal upon all earth's creatures
For forgetting the way
And the energy surges, and whips like a hurricane
And she feels it now, the fading of pain
Into determination
She rises, nods, and retraces her steps
Through broken branches
To await her reign
The circle is open but unbroken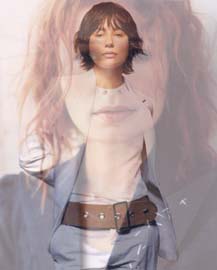 REAL MAN WANTED*accompanies Real Men*
Call me a feminist for wanting equality,
For wanting a little respect
Because it's easier that way, isn't it?
Easier to label and categorize,
Scapegoat and psychoanalyze
Play the politician and never answer the question
Call me a dyke, if it makes you feel at ease;
Ignore my mind; focus on what I do
On my knees
Perhaps you envy me for being better at it than you?
Perhaps you're afraid that I'll dominate you?
Perhaps you're afraid you'd like it?
Talk about being a real man
Talk about having strength
Talk about the women who you slept with
As if they were fresh meat
Strength is to go against the grain
Strength is to reject the patriarchy that enslaves
I wonder if you'll ever know what it is
To be a real man
To know the beauty of anima and animus joined
To know the power of union
Resistance is the secret of joy, and
I hold the key
Dare you turn it with me?